Work lately is kinda sucking. Not due to the work itself, but rather for the lack of it. I got my car fixed, from when the transmission died on me just before Christmas, and the bill was quite hefty so now with work availability being so lack luster it's got me a bit nervous.
I picked up a few games for the DS in the last little while. I grabbed Elebits: The Adventures of Kai and Zero and picked up Final Fantasy VI Advance off of eBay (okay so that's not a DS game, but I'm playing it on my DS). I was playing them both back and forth, favoring Elebits at first and I'm currently near the end of the game (at least I think I am…) but I've kind of lost interest in it and am now playing FF6 instead. I never did beat this game back on the SNES. I once borrowed the cart off a friend but lost interest shortly after I hit the World of Ruin (about the halfway point of the game for those that don't know [or care, heh]). That was over 10 years ago now though so as I'm playing through I'm not remembering much, just scattered things here and there. I also picked up Avalon Code because I played a demo for it and thought it was really interesting. I'm not playing it yet though, I'm fighting the urge to check it out because I know that if I get into it then FF6 is going to be left by the wayside and I'd really like to finish it this time.
My nephew is now eating baby food and drinking juice. I have a picture.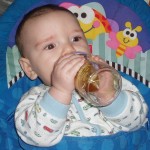 Fact: He is cute. That is all.